The Happy Planner is addictive. There's no doubt about it. This fun, customizable planner system has taken the planning world by storm, and for good reason. The Happy Planner is perfect for those who want to be creative with their planning, and the options are endless.
With so many different inserts and accessories available, you can make your Happy Planner truly unique. Not to mention, the stickers are absolutely addictive!
Whether you're a die-hard planner addict or just looking for a fun way to stay organized, the Happy Planner is sure to satisfy. So what makes this planner system so addictive? Let's take a closer look.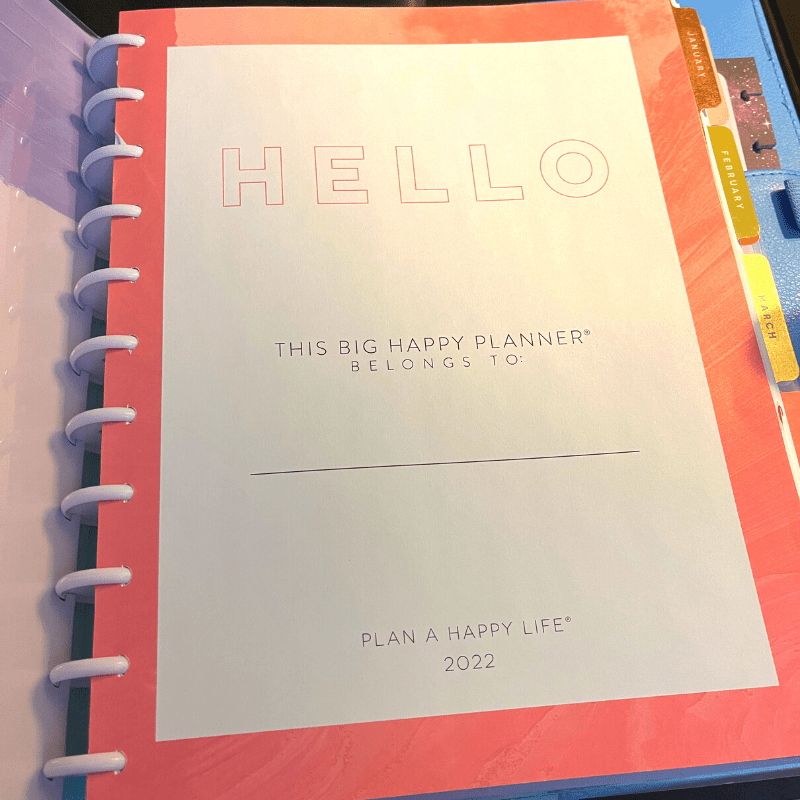 1. The Happy Planner Is Customizable
For starters, the Happy Planner is highly customizable. You can choose from a variety of different inserts to suit your needs, and you can even create your own templates. There are also plenty of accessories available to really let your creativity shine through. The possibilities are endless!
This has led to an entire army of people creating inserts and templates for your Happy Planner. You can find everything from meal planners, fitness trackers, goal trackers, habit trackers, and much more on the popular crafting site Etsy as well as other places.
There are even a few people who do planning called FrakenPlanning. It's the process of putting all different planners into one.
2. The Happy Planner Is Fun
Beyond being customizable and addictive, the Happy Planner is just plain fun!
Whether you're a serious planner or someone who simply wants to stay organized in an enjoyable way, this planner system is perfect.
The stickers are a big part of what makes the Happy Planner so fun. You can find stickers for every occasion, and they're a great way to add a personal touch to your planning.
There are some people who fill their entire weeks with stickers, which may not be the most productive way to use your planner, but it is fun.
3. It's Affordable
The Happy Planner can be as expensive or affordable as you want. There are plenty of things to buy on the Happy Planner site, but that doesn't mean you need to break the bank if you can't afford everything the Happy Planner offers.
Not only are the planner and the inserts relatively inexpensive, but you can also find a ton of free printables online. This makes it easy to get started with the Happy Planner without breaking the bank.
4. It Holds You Accountable
The Happy Planner is also addictive because it holds you accountable. When you have a physical planner, it's much harder to ignore your obligations than when they're merely floating around in your head. This can be a great way to stay on top of your goals and commitments.
5. There Are Different Sizes
By buying one of the smaller Happy Planners, you have a portable planner that you can throw into your bag so that you can easily take your planner with you wherever you go.
There is also the classic happy planner which is a class size that you can take around with you or keep at home.
And there is a big size Happy Planner. This is still portable even though it's much bigger, and you can buy a cover to go along with it. But this planner works well on a desk for someone who has a lot to plan and schedule.
And there are stickers to fit each size planner!
Whether you're heading to work, going on vacation, working from home, or just running errands around town, the Happy Planner is there to help keep you organized and motivated at any size.
6. It's A Creative Outlet
Creativity is good for the mind and soul, and the Happy Planner allows you to be creative as you come up with spreads for the week, month, and year.
And, you can put whatever you want in your Happy Planner – stickers, doodles, post-it notes, and anything else.
7. It's Soothing To The Soul
The act of planning itself is soothing to the soul. This is one of the main reasons people become addicted to the Happy Planner. There's something about the act of sitting down and planning out your life that just feels good.
8. It Brings Joy
Anything that brings you joy is addictive, and the Happy Planner is no exception.
It is called the Happy Planner after all, and it truly can bring happiness and joy to your life. Whether you're using it to document happy moments or simply as a way to stay organized, this planner system is sure to bring you joy.
9. You Don't Need To Be Perfect
With the discbound system, you don't need to be perfect in your planner. You can remove and add pages as you please. And there are plenty of undated daily, weekly, and monthly sheets you can buy.
In other words, if you mess up, you can try again.
10. You Can Be As Creative Or Simple As You Want
The Happy Planner is perfect for those who want to be creative with their planning, but it's also great for people who want to keep things simple. There are plenty of inserts and templates available to make your planning process as easy or as complicated as you want.
11. There Are Plenty Of Different Layouts
I find myself looking forward to the next season's layouts because there is so much variety to choose from and always something that fits my needs. There are different themes as well as horizontal and vertical layouts. And there are different prompts and headers to choose from.
12. There's Always Something New Coming Out From The Happy Planner
Whether it's a new fun box full of planning goodies, new stickers, or a new planner, there's always something new coming out from the Happy Planner. You will never get bored when you get addicted to the Happy Planner.
Overall, there are plenty of reasons why the Happy Planner is addictive. Whether you're looking for a creative outlet, a way to stay organized, or just something fun to do in your downtime, the Happy Planner system has got you covered!